Evening Book Discussion
The group meets the last Tuesday of the month at 7:00 pm unless otherwise noted. We will talk about a variety of books in different genres and various subjects, both fiction and nonfiction. Books are available at the Adult Services Desk for patrons signing up to participate in the discussion.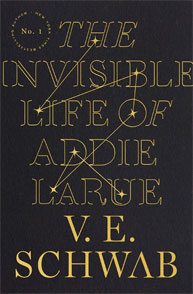 The Invisible Life of Addie LaRue by V.E. Schwab
Tue, 05/30/23 at 7:00 pm
Chronicles the extraordinary life of Addie LaRue, who, in a moment of desperation, makes a Faustian bargain to live forever, and is cursed to be forgotten by everyone she meets, until 300 years pass, and a young man remembers her name.
The Thursday Murder Club by Richard Osman
Tue, 06/27/23 at 7:00 pm
Meeting weekly in their retirement village's Jigsaw Room to exchange theories about unsolved crimes, four savvy septuagenarians propose a daring but unorthodox plan to help a woman rookie cop solve her first big murder case.
The Siren of Sussex by Mimi Matthews
Tue, 07/25/23 at 7:00 pm
Welcomed into fashionable society wearing the designs of boundary-pushing, half-Indian designer Ahmad Malik, daring equestrienne Evelyn Maltravers must decide what matters most—making her mark or following her heart.
The Violin Conspiracy by Brendan Slocumb
Tue, 08/29/23 at 7:00 pm
When, right before the cutthroat Tchaikovsky Competition– the Olympics of classical music, his priceless Stradivarius is stolen, with a ransom note for five million dollars in its place, Ray McMillian must piece together the clues to reclaim the violin before it's too late.